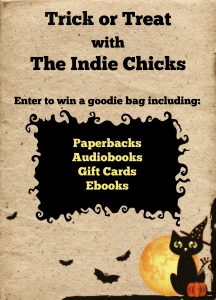 Happy Halloween

from the

Indie Chicks

!
Trick or Treat
BOOK STYLE!
ENTER

 

to win the

 

GRAND TREAT

 

(virtual goodie bag filled with audiobooks, paperbacks, ebooks, and more, simply)
Visit each of the 12 participating websites. Read the post titled ICR TRICK OR TREAT and identify the "treat" the author is "handing out". Write it down to make sure you have it all right.
Once you have all 12 sites visited and know the treats, visit the

Indie Chicks website

and fill out the form.
Please only fill out the form once you've visited us all!
Make sure you fill it out before our porch light turns off on

NOVEMBER 3rd

.
Enjoy an excerpt from Don't Let Go.
Sadie is changing into her Halloween costume …
Straightening out the skirt with both hands, I say, "Okay, turn around."
My eyes look up at him, and his eyes roam up and down my body. I think he could ignite me into flames with the fire that fills his eyes. His desire is something I've never felt in my life.
"Jesus, Sadie." His Adam's apple rises up and dips back down. "I'm speechless. You're gorgeous…you're sexy…you're so fucking perfect."
In two steps, he's an inch away. Without my heels, he towers at least a foot over me.
"You have no idea how hard it is for me not to grab you and throw you down on my bed right now. It's taking every ounce of self-restraint I have to be this close to you and not be inside you."
My virtual "treat" for you is:

PAPERBACK of DON'T LET GO
Make sure you swing by my fellow Indie Chick pages and get their treats! You can find them here:
Adriana Locke: www.adrianalocke.com
Ruthie Henrick: www.ruthiehenrick.com
Elisabeth Grace: www.elisabeth-grace.com
RE Hunter: www.rehunterbooks.com
Gia Riley: www.authorgiariley.com
Eliana Peters: www.espeters.com
Ryleigh Andrews: www.ryleighandrews.com/blog
Faith Andrews: www.authorfaithandrews.com
Michelle Lynn: www.michellelynnbooks.com
Kennedy Ryan: www.kennedyryanwrites.com/blog
Eleanor Green: www.authoreleanorgreen.com
Mia Kayla: www.authormiakayla.com
Am I your last stop, well run over to the giveaway form at  www.indiechicksrock.com.